Audio
---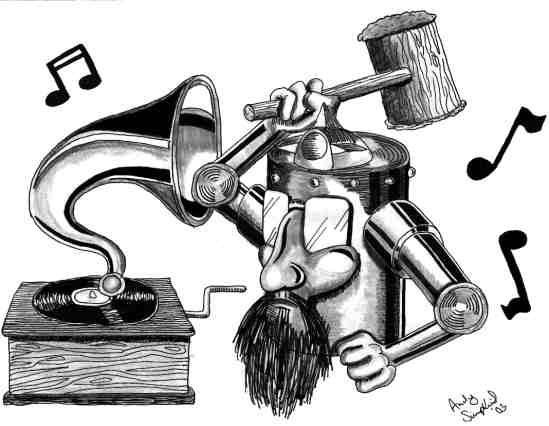 Overview
Welcome to the soul of Staggering Stories. Here you can find trailers for The Buccaneer Chronicles text stories featuring full casts and specially composed music. You can also find the music on it's own as well as music for other people's productions. Also there's a general music section and some rather fine sketches. What your getting here is stuff from way back when we were just starting all this and having to learn how to do it. We still are learning, but the more recent stuff is a quantum leap forward in quality. We hope you enjoy them and if Big Finish are listening, Tony works cheap.
All music (unless otherwise noted) performed, composed and/or arranged by Tony Gallichan.
Our theme tune. Done from memory. You may recognise it...
Tony Gallichan first recorded a version of the theme tune to The Staggering Stories of Ferdinand De Bargos back in around 1999. Approximately ten years after he had last heard it. He got bits a little wrong. Despite that, the site, and indeed, the podcast, used it for another ten years. Now, for the podcast's 100th episode, he rebuilt it from the ground up, using You Tube clips to freshen his memory.
---
Audio Sections
Everything other than our main theme tunes are broken down into audio sections, for your browsing delight, below.
Yes, you too can now hear the Staggering Stories team wobbling on about the usual sad stuff this site covers in our very own Staggering Podcasts!
Full audio plays for your listening pleasure!
The full cast, all action trailers for the Buccaneer Chronicles text stories. Set in the same universe as Doctor Who, you may find some familar faces - but NO Doctor - we don't need that goody-two-shoes. There's also some other silly nonsense.
The music from the trailers. Also various bits that have been done for various scenes.
Other pieces that don't quite fit in anywhere else, a lot of it Doctor Who inspired so expect a couple of covers of familiar Who tunes. Also here are some comedy sketches including the acclaimed "Forty Fast Years In The TARDIS Show".
Bits done for other production houses.
A few tracks that have caught Tony's ear.