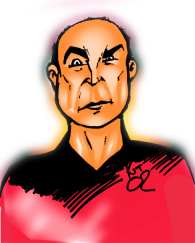 Andy Simpkins
---
| | |
| --- | --- |
| Name | Andrew Paul Simpkins |
| Age | Deceptive. |
| Status | Moving up the NHS waiting list. |
| Size | Diminishing. |
| Hairline | Unsure what one is, thinks he used to know though. Garibaldi Rating.. "Sleeping in Light". |
| Position | On his back with tubes emerging from every oriface. |
| Most likely to say | "oooooooooooooo!!!!" |
| Least likely to say | "I'll be at roleplaying on Saturday." |
| Email | |
Let the following things be said about this steadfast and erstwhile person.
Andy Simpkins was born at 11pm in August 1964 in the fair and leafy suburb known as Crystal Palace in south-east London.
Having spent an idyllic childhood doing the things than rosy-cheeked angelic youngsters do; such as peeing through letterboxes, exposing himself to his aunts and uncles and playing his Slade lps at full blast. He was sent for a tour of duty at Kingswood Primary School in Norwood, south London. Apart from learning the 3R's he also learned how to drink a half-pint bottle of milk in less than 3 seconds and keep the milk bottle adhered to his face by suction alone, learning about female biology by lifting up girls skirts and puking up during PE classes.
At the age of 11, he was sent to Battersea Grammar School in Streatham, London. After surviving the blood bath known as secondary education, he and his family moved to the pastoral settings of Crawley in West Sussex where he lives now.
He is still residing in Crawley, West Sussex. He is single, although open to offers. Has a 3 bedroomed house, which he shares with his cat, Sunday. His hobbies include swimming, scuba-diving, playing squash and badminton, science-fiction, helping old ladies to the middle of the road and standing on one leg with a finger in his ear while shouting "I'm the letter P!"