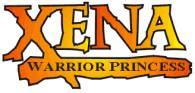 Xena: Warrior Princess - The Stories
---
In a time of anicient gods,
warlords and kings,
a land in turmoil cried out for a hero.

She was Xena,
a mighty princess forged in the heat of battle.

The Power!

The Passion!

The Danger!

Her courage will change the world.
We are very proud to present Karen Dunn's much admired Xippy winning Xena stories! Live the good clean fun of Xena and Gabrielle living the good life amongst those alive in those lively days two thousand years ago. Battle on Xena!