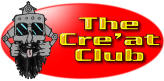 Staggering Stories Card Game
---
Hello and welcome to the Staggering Stories Card Game! Here you can find the rules to the internationally obscure game and sets of cards with which to play.
The card sets are provided as PDF files that can be read by the Adobe Reader (aka Adobe Acrobat Reader), which you can download freely from Adobe.
Have fun - and remember, it's only a game - for now..!